Supercooked!
Join the quest to become master chefs!
Cook your way to the top by beating eight exciting stages alone or with up to three friends in this action-packed new title for your SNES inspired by Ghost Town Games' Overcooked!

What's this all about?
This game is a weekend project by three enthusiasts: We loved the SNES growing up, now we celebrate our nostalgia by creating new games for it in our spare time.
Sadly, there weren't any SNES game jams this year, so we took matters into our own hands and had a little #SnesDevParty in the rural Eifel uplands in western Germany instead.
Of course, a proper SNES title needs to be on physical cartridges, so we set up a micro-production-run of 16 handcrafted copies, too.
But don't worry if you didn't get one - just download the digital version right here, completely for free.
We sincerely hope that you'll have as much fun playing this little game as we had creating it!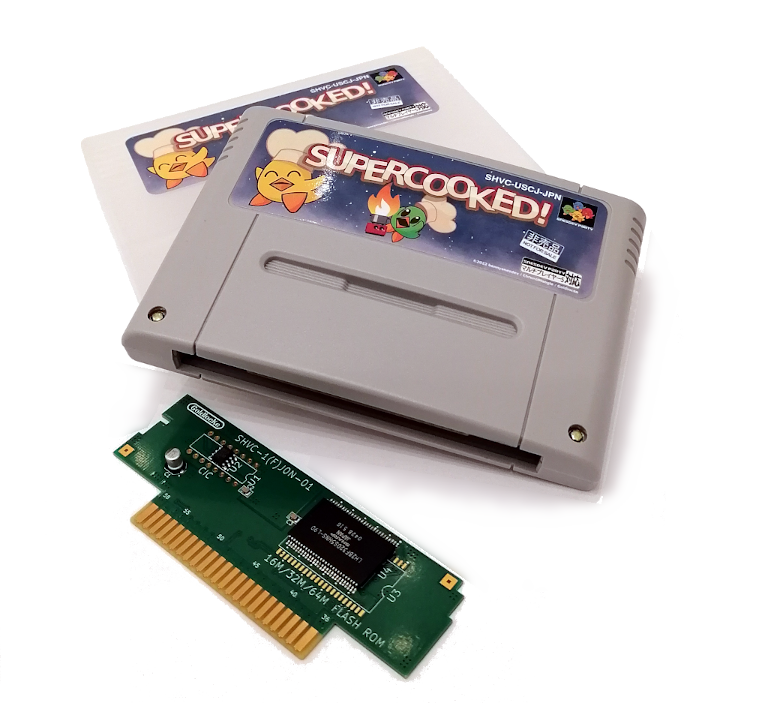 How do I play?
Download the ROM image and load it into an SNES emulator of your choice or put it on a SNES flashcart to play on real hardware.
For multiplayer mode, plug a Multitap with up to three joypads into joypad port 2 of your SNES.

You and up to three additional friends are aspiring apprentices trying to climb the mountain of cooking excellence.
To succeed, you must prove your chops in eight kitchen stages: The better you perform, the more stars you get - which are in turn required to open the star gates and expand the world map.

And how does cooking actually work?
Easy as pie!
Incoming orders are displayed on top of the screen along with preparation instructions:
Grab the required ingredients from their respective container, prepare them as required, put them on a plate and serve them to the service hatch to complete the order.
The faster an order is completed, the more points you score.
If you mess up or let the food overcook, your only option is to throw the sorry remains into the trash and start all over again.
But watch out: for every order not delivered in time, one of your five lives is taken away. If no more lives are left, you've failed the stage and have to try again.
And don't forget to do the dishes, too!
A stage is completed once the timer reaches 0.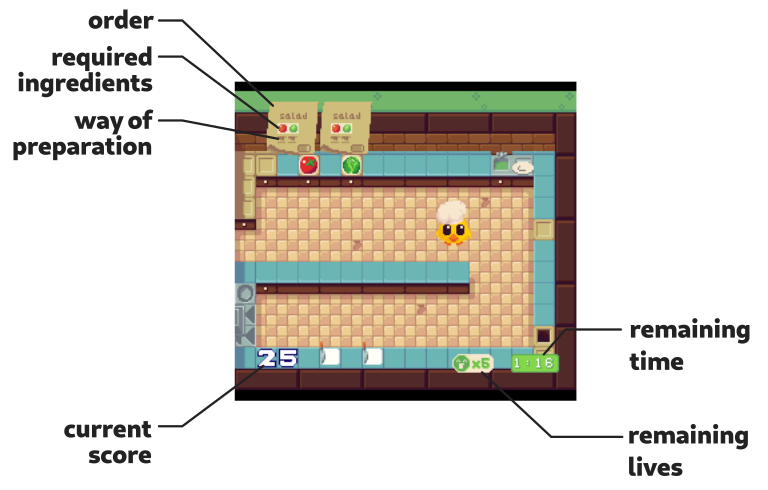 Star rating
A maximum of three stars are awarded per stage, one for each of the following achievements:
Completing the stage
Not losing a life/not missing an order
Reaching the gold score target
Order recipes
Salad: chop a tomato and a lettuce on a cutting board, then put both on a plate and serve
Sandwich: put flour on a plate, put that into the oven. Once baked, take it out, add some cheese and serve
Steak: put a tomato in a pot on a stove, do the same with a piece of meat. Once cooked, combine the content of both pots on a plate and serve
Pasta: put a tomato in a pot on a stove, do the same with a pack of flour. Once cooked, combine the content of both pots on a plate and serve
Fries: chop a raw potato on a cutting board, then put that on a plate and into the oven. Once baked, take it out and serve
Burger: Put flour on a plate and let it bake in the oven. Once done, add chopped lettuce and cooked meat, ready to serve
Pizza: Cook tomato in a pot, put it on a plate, add flour and cheese, then finally let it bake in the oven and serve
Roast: Chop a raw potato and a tomato, put both on a plate and add meat. Finally, let it bake in the oven, ready to serve
Scoring hints
The key to better scores is parallelization of tasks
No matter how well you perform alone, the highest scores are only attainable in multiplayer mode
Technical information
4Mbit cartridge with save slot (SRAM or FlashROM)
Video System/Target Region: NTSC/Japan
Contributors: @bennysnesdev, @ChronoMoogle, @Goldlocke
Tools used: WLA-DX, LZ4, Visual Studio Code, Audacity, MilkyTracker, GIMP, Blender, Tiled, gracon, make
Successfully tested on: SFC 1/1/1, SFC 2/1/3, SNES PAL 2/1/3, SNES 1Chip, Analogue Super NT, BSNES
Changelog
v1.0: Initial release
V1.1: Bugfix: Completed meals that were spoiled by adding another ingredient on top could still be turned in and were treated as valid meals.
V1.2: Bugfix: Fixed rare crash in stage 2
| | |
| --- | --- |
| Status | Released |
| Release date | 81 days ago |
| Rating | |
| Author | Goldlocke |
| Genre | Action |
| Made with | Tiled, MilkyTracker, GIMP |
| Tags | 2D, cooking, Demake, Local multiplayer, Multiplayer, Pixel Art, Retro, snes, snesdev |
| Average session | A few minutes |
| Languages | English |
| Inputs | Gamepad (any) |
| Accessibility | Interactive tutorial |
| Multiplayer | Local multiplayer |
| Player count | 1 - 4 |
Comments
Log in with itch.io to leave a comment.
Congratulations on the work, it was incredible, I recorded a gameplay directly on the CRT TV
Hallo von der RETURN. Freut uns das Euch unser 50er Heft gefallen hat. Wir haben versucht Euch zu erreichen allerdings konnten wir keine Mail Adresse von Euch finden. Könntet ihr Euch bitte mal kurz bei uns Melden? Danke und liebe Grüße!
Is there any plans to support BSNES-HD widescreen in this game?
Is there a change log for v1.1 vs v1.0? Can you provide links to v1.0 for posterity?
Thank you for your suggestion! I have added a small changelog to the page. I'm hesitant to offer anything but the latest version for download because I would like people to experience only the best and most bugfree version of the game.

I'm so excited to see this! This looks like so much fun! Can you include also the digital cover art for download? I would love to play on the SNES Classic where a person can also add the art to go with the game.
Thanks a lot for this new game, i love multiplayer games so much to play with my children :)
I will try it :)